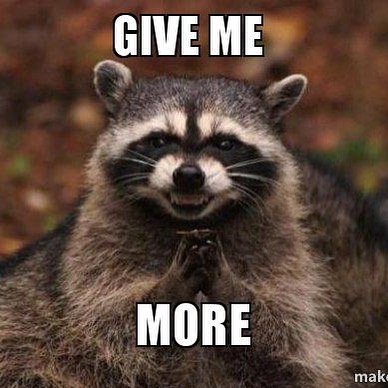 Do you ever get in that frenzied state where you think you just need more?
More time – more food – more money – more drinks – more results…
Take a minute to come up with a list of what you feel you need more of and by each thing, say what will be better if you just had more of it.
There was a time in the Israelite's journey to the Promise Land when they grumbled because they didn't have food like they did in Egypt. They were a bit panicky because they couldn't see where their needs were going to met out there in the big sand box.
How often are we like the Israelites?
We look around and see what we used to have or what others have and begin to grumble about our "lack of". If only I had more_____________ (look at your list and fill in the blank).
Learning to trust God when we are in the more mentality is tough! We are so good at convincing ourselves that our life would be easier, more effective, less stressful, more fun…if we just had a bit more.
"Therefore I tell you, do not be anxious about your life, what you will eat or what you will drink, nor about your body, what you will put on. Is not life more than food, and the body more than clothing?
Look at the birds of the air: they neither sow nor reap nor gather into barns, and yet your heavenly Father feeds them. Are you not of more value than they? And which of you by being anxious can add a single hour to his span of life? And why are you anxious about clothing? Consider the lilies of the field, how they grow: they neither toil nor spin, yet I tell you, even Solomon in all his glory was not arrayed like one of these.
But if God so clothes the grass of the field, which today is alive and tomorrow is thrown into the oven, will he not much more clothe you, O you of little faith? Therefore do not be anxious, saying, 'What shall we eat?' or 'What shall we drink?' or 'What shall we wear?' For the Gentiles seek after all these things, and your heavenly Father knows that you need them all. But seek first the kingdom of God and his righteousness, and all these things will be added to you.
"Therefore do not be anxious about tomorrow, for tomorrow will be anxious for itself. Sufficient for the day is its own trouble." Matthew 6:25-34
Did you notice the sentence I italicized up above? "Are you not of more value than they?"
This, my friends, is where I want us to settle in for today – our value.
I am learning that the degree to which I value myself is the degree to which I value what God has given me. I am finding the areas in me that I don't value.
How? By listening to how I talk to or about myself in these areas.
I am finding that I don't need more of what is on my list right now. What I need is to value myself more so I can in turn, value what God has given me.
The more I give myself grace when I screw up, the more I appreciate my talents instead of berating my weaknesses and the more I enjoy being me, the more I realize what I have is enough for what God is asking me to do today.
So hand your list over to God.
Trust that He knows what you need as far as all those things go.
Breathe in…Breathe out…
Trust that the more you value yourself, the more your life will be filled with the things you truly need.
<>< KC
#thisistheyday
#morementality